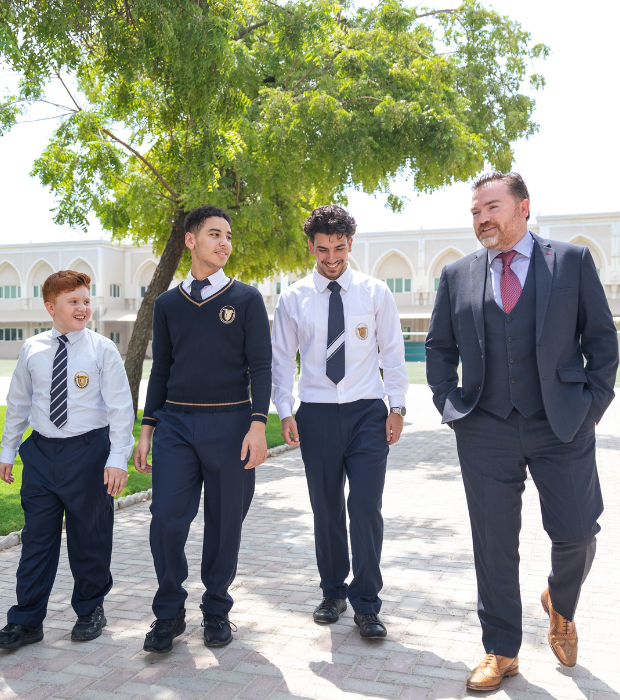 An Interview with Principal James McDonald
1. Can you tell us more about WGP's journey toward becoming the fastest improving school in the UAE?
My ambition as Principal of GEMS Wesgreen International School is to continue delivering outstanding education across all sections of our school. From the day I set foot inside GEMS Wesgreen, I knew it had the potential to be the leading school in Sharjah. The school is well-known for its high academic outcomes at IGCSE, AS, and A-level, but I also want it to be much more than that and serve as a hub for the community it caters to.
At the beginning of this academic year, we welcomed a British Schools Overseas inspection team to our school. The BSO inspection aligns with independent school inspections in the UK and allows for a direct comparison of how we perform against those specific standards. As well as being a UK measure of quality, it serves as an international benchmark and is considered the gold standard for British inspections of international schools. I am thrilled to announce that GEMS Wesgreen achieved a rating of Good with Outstanding features. This was the first time our school underwent this level of scrutiny, and we were very pleased and proud of the outcome.
Throughout this year, we have been tirelessly working on the development of teaching and learning, and we will continue to raise the bar to ensure our teachers deliver exceptional lessons and our students make expected or better-than-expected progress. Our student outcomes are among the best in both Sharjah and the UAE as a whole. Parents entrust their children to our school, knowing that the education we provide prepares them to excel in international examinations. A large majority (nearly all) of our students go on to study at prestigious universities both here in the UAE and around the world.
2. How did the School Performance Review Report (SPR)/ SPEA's ITQAN Programme assess WGP's progress in the 98 parameters?
At the end of January 2023, we underwent our SPEA inspection. The school was judged 'Good' overall but with a significant number of Very Good judgements. SPEA recognised the improvements across the school, and we improved in every single performance standard, in some cases by two judgements. Overall, the SPEA report showed that the school improved across 98 parameters since its last inspection, which is a clear indication of the hard work that has already taken place and the positive impact it is having on the quality of education we provide. The improvements in student outcomes, along with our focus on student wellbeing and mental health, supported these improved judgments. We are now one of the fastest improving school in the UAE and there is no plan to stop.
3. What specific changes or improvements has WGP implemented to achieve such a remarkable improvement in its performance?
A focus on teaching and learning is always one of the key elements that schools need to maintain if the educational provision is to improve. We have been working closely with all our teaching staff and providing them with expert professional development so that they have access to the most up-to-date best practice. As a British international school, it is also important to have the right staff in the right positions so the school can succeed. In my first year as the Principal at GEMS Wesgreen, I have been doing exactly that through several measures, including enhancing teacher performance, using data to inform decision making, and implementing an enhanced community relationship programme. Our parents are playing a big part in the school's improvements, as well as our very supportive Local Advisory Board (LAB). The SPEA report highlights significant improvements related to safeguarding, students' personal and social development. Tolerance and respect for others are embedded within the culture of the school. The well-being of all our students remains a major priority, and this includes making them all feel safe within the school environment. Safeguarding continues to be seen as a major strength of the school, which is reflected in many of the Very Good judgments. SPEA has been a great support, and the school has benefited significantly from their outstanding support, events, and networks.
4. How do you think this achievement will impact the students, staff, and overall education in your school? And in Sharjah?
Our success shows that the school has the tools and resources necessary to succeed, and that we will be Outstanding in the future. Students are already benefiting from improved teaching, better resources, and increased opportunities to perform at the highest level. Teachers are gaining access to world-class professional development, improved resources, and they now see the significant impact their efforts are having on their students. We provide effective communication among teachers, staff, students, and parents. We have a mix of experienced and new teachers, a student-centered approach to education, minimal departmental politics, a mentoring program, empowered and involved faculty, and teamwork.
GEMS Wesgreen produces students who can empathise, critique, protect, love, inspire, make, design, restore, and understand almost anything. As a leading school in Sharjah, we adapt quickly to social change, teach students to think, design their own learning pathways, and create valuable learning experiences. SPEA has been very supportive in the transformation of the quality of education provided in the Emirate, and Wesgreen is now supporting other schools in the region to further improve this provision.
5. What are the future goals for WGP, and how do you plan to sustain and build upon this success?
The ultimate goal is to be rated as 'Outstanding' and to deliver world-class education in line with the top schools both here in the UAE and around the world. We are currently developing our EYFS and our Primary school to become a forest school. Forest School education offers several benefits to children, including boosting their confidence, problem-solving, independence, sensory and motor skills, emotional intelligence, and resilience. Research has shown that participation in Forest School can increase children's motivation, concentration, understanding and knowledge of the environment, while also fostering a greater appreciation of the natural world and their place in it. Additionally, Forest Schools can help children of determination or those with additional needs to gain greater independence and reduce anxiety. The focus on learner-led activities and play-based learning in natural environments promotes a child's holistic development and helps children develop environmental literacy. Giving our students improved access to high-quality resources that will support both their education and their social development is a priority here at GEMS Wesgreen. We are redeveloping our library provision to ensure all students have access to a modern school library and introducing enhanced reading programs to develop a love of books and reading. We are building Science, Technology, Engineering and Maths (STEM) laboratories to give students improved exposure to the more practical elements within these subjects and opportunities to integrate them into project-based learning. These labs will be used by students to engage in more hands-on projects such as robotics, practical physics lessons, science experiments, coding workshops, and much more to prepare them for the future.
6. Can you share any success stories about WGP students or teachers that highlight the school's dedication to academic excellence?
GEMS Wesgreen is well known for its high academic results and is regularly one of the best-performing schools within the GEMS network and across the UAE. This year, we have had several students awarded best in the UAE in a number of different subjects in iGCSE, AS and A-level. We have also had one of our teachers shortlisted for the Cambridge Dedicated Teacher Award. These successes highlight the quality of our teachers and the high bar we set for all our students and teachers.
7. What role do you think parents and the community play in WGP's success, and how do you involve them in the school's growth and development?
I wanted to take a moment to express our gratitude for all the parental support we receive at GEMS Wesgreen. The involvement, dedication, and commitment to their children's education have been instrumental in their success and that of the school.
Research consistently shows that parental engagement is linked to higher academic achievement, better attendance, improved behavior, and students moving on to third-level education (University). Parents have helped foster a sense of community and, in turn, supported the creation of a safe place where their children can excel.
I am constantly impressed by the dedication and passion that our parents bring to GEMS Wesgreen. Their contributions, whether large or small, make a significant impact on the lives of our students and our community. Our parents' contributions played a significant role in the improvements seen in our SPEA inspection report.
8. Can you speak to any challenges or obstacles that WGP has faced during its journey towards becoming the fastest improving school in the UAE, and how it overcame them?
Like all schools, we faced many challenges in a short period of time to get to where we are today. Improving students' outcomes, closing the gaps in learning caused by the pandemic, developing the quality of teaching and learning, providing outstanding resources, recruiting high-quality staff, and meeting the diverse needs of all our students were all priorities. We have been very strategic in our approach to make improvements in all these areas and have been working extremely hard to improve in every area of the school. Despite the challenges mentioned, we have made significant progress and will continue to do so. Thanks to the hard work and dedication of teachers, administrators, and our fantastic parents, we have achieved a 'Good' outcome for the first time in the history of the school, and I am positive this will continue to improve. With a strong commitment to student success and a willingness and resolve to overcome obstacles, GEMS Wesgreen will officially be an outstanding school in the not-so-distant future.
9. Finally, what message would you like to convey to the wider community and stakeholders about WGP's achievement, and why it is important for the future of education in the UAE?
We would like to convey a message of pride and gratitude to the wider community and stakeholders regarding WGP's remarkable achievement as one of the most improving schools in the UAE. Our success is a testament to our unwavering commitment to academic excellence, as well as our dedication to promoting the wellbeing of our students.
We recognise and deeply respect the UAE culture, and our educational approach reflects this. By fostering a learning environment that embraces and celebrates the rich heritage and values of the UAE, we aim to instill a sense of pride and identity in our students. We believe that a strong cultural foundation combined with a focus on academic achievement creates well-rounded individuals who are prepared for the future.
The importance of our achievement extends beyond our school. As education plays a crucial role in shaping the future of the UAE, our success serves as an inspiration and benchmark for other educational institutions. By consistently striving for excellence and delivering high-quality education, we contribute to the overall advancement of the education sector in the UAE.