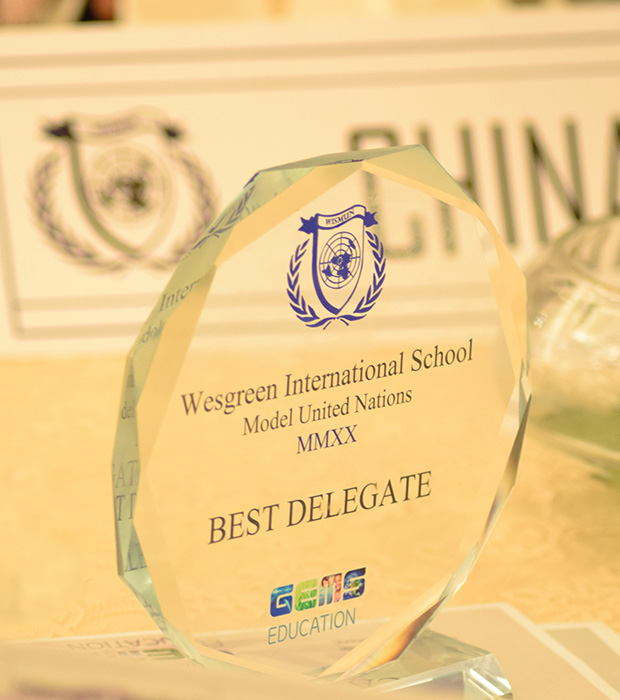 Model United Nations
WISMUN 2020
"More than ever before in human history, we share a common destiny. We can master it only if we face it together. And that, my friends, is why we have the United Nations."- Kofi Annan
WISMUN is an emerging event at Wesgreen International School, where this year, hidden talents were fully showcased, teamwork and professionalism were engraved, and young diplomacy was witnessed.
The WISMUN conference started as a school- based Model United Nations at Wesgreen in 2018 and grew within a year to an interschool MUN involving schools from the emirates of Dubai and Sharjah. WISMUN 2019 was a huge success. In 2020, the WISMUN hosted 6 UAE- based schools with around 300 delegates and three United Nations guest speakers, namely; Dr. Faraz Khalid (Health Systems Specialist at the World Health Organization's regional office in Cairo), Ms. Deema Jarrar (Education Manager for UNICEF Sudan Country Office) and Mr. Fathy Afana (Goodwill Ambassador, Economic and Social Council of the United Nations 2014, UAE). Our external guests review and feedback was highly encouraging, and therefore it posed as a motivation to reach and set new benchmarks for this event at Wesgreen.
This year's theme was: 'Impartiality: The Foundation for Equal Opportunities.' The disparities between people with differing ethnicities, religions, political beliefs and gender has been neglected. The suppression of diversity has caused conflict within societies, which has resulted in wars, mass slaughters and the marginalization of groups. We believe that the realization that meritocracy does not truly exist in most societies is long overdue. We must acknowledge that people are not given equal opportunities to succeed, and that impartiality is necessary to enable individuals to rise based on their merit, and not elements such as gender, ethnicity or economic status. Together, we share one planet, and it is crucial that we recognize that the conflict we have lived in thus far should no longer be validated.
It is an event put together to praise and honor the debating forum cherished by young individuals around the world, in Wesgreen's own unique way. The students, behind the scenes, put together an excellent event, displaying their relentless efforts to make it educational, appropriate and memorable in all ways possible. It is a true example of student talent, professionalism, and the transition into maturity.
Another exclusive part of the WISMUN event was its entertainment sections, where top-class talents were demonstrated by the students and outside performers, including fantastic piano performances by Alia Ahli and Karam from Wesgreen, Arabic Dabke' and South Asian performances by professional dancers, acapella by Mr. Al Qassimi, and singing performances by a mini band of Wesgreen girls.
We at Wesgreen believe that the young, sensible minds are the fundamentals to the stability of the future world, where strong moral philosophies and knowledge of intricate world issues are essential to the establishment of peace and growth of the future generations. WISMUN therefore would like to move forward with the same ethos.
"The United Nations stands for the freedom and equality of all peoples, irrespective of race, religion, or ideology." - Ralph J. Bunche