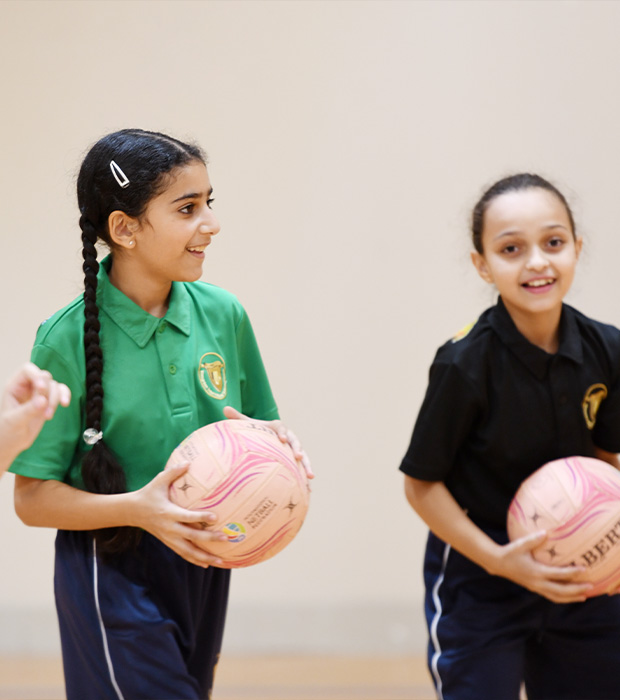 Extracurricular Activities
The Physical Education department run a number of after school clubs each term to extend the learning of our students beyond the Physical Education Sessions. We run several different sports and activities in our Gymnasiums, Swimming Pool and Astroturf Pitches for all the different year groups. Sessions are usually once a week training and additionally games, matches and fixtures are played throughout the year. These extra sessions provide an additional chance for children to fine tune their skills whilst also getting time to really enjoy different sports in a fun & safe environment with their friends with one of our professionally trained team. Extracurricular activities are essential since they tend to engage more and more pupils with fun and enjoyable activities, they introduce them to new friends, and they are important for college applications. We offer a variety of after school activities such as basketball, football, badminton, volleyball, athletics, dodgeball, netball, swimming, gymnastics, cricket and rounders.
On top of our extracurricular physical education sports clubs activities and teams, we offer a four/five-week league program which includes two sessions per week and game sessions with a coach. Although competitive, the emphasis of these activities is to teach students the value of teamwork, keeping active and having fun. Each student receives his/her personal little league kit and by the end of the program, each student taking part receives a trophy.

Paid Little League Activities

Football
Cricket
Basketball

Our school teams are incredibly successful winning many league titles in the Gems Competition Series, EISSA leagues and Invitational tournaments such as Skyline University tournament. Our boys and Girls team train and compete weekly in;

U10s, U12s, U14s and U16s Football teams
U10s, U12s, U14s and U16s Basketball teams
U10s, U12s, U14s and U16s Athletics teams
U10s, U12s, U14s and U16s Swimming teams
U10s, U12s, U14s and U16s Netball teams
U10s, U12s, U14s and U16s Cross-country teams

Summer camp is another fantastic opportunity for growth, allowing students to become autonomous, while socializing and making new friends and even learning new skills. Our summer camps run in line with the school day from 8:30 AM, but students can arrive any time after this and from 7:30 AM each morning for registration. Students will be finished at 2:30pm each day. Transportation is also now available upon request provided the terms and conditions are met by the transportation company. There are now even more sports on offer to choose from such as Basketball, Football, Volleyball, Dodgeball, Tag Rugby, Athletics, Badminton, Cricket, Swimming, Rounders and more as well as an English lesson with the English Department each morning. All sessions will be inside the Gymnasiums. The emphasis of the program is about having fun in a safe environment. Each student taking part receives a certificate and a T-Shirt at the end of week presentation and a chance to win the Trophy for "Player of the Week".

As per our school's athletic tradition, every year we recognize our best student athletes and we award the following titles:

'Outstanding performer'
'Team of the year'
'Sports personality of the year'

Each team manager chooses the winners from those students who have applied themselves and represented the school for the school teams. It is getting harder and harder as the standards and trophy cabinets are getting bigger and better.

Extracurricular Timetables for Primary Secondary Girls and Boys

Primary Section

Sunday

Monday

Tuesday

Wednesday

Thursday

Grade 1 and 2

Boys and Girls Gymnastics

Grade 3 and 4

Boys and Girls Dodgeball

Grade 3 and 4

Boys Swimming

Grade 3 and 4

Boys Football Club

Grade 3 and 4

Girls Swimming

Grade 1 and 2

Boys and Girls

Fun Games

Grade 1 and 2

Boys and Girls Dodgeball

Grade 3 and 4

Girls Football Club

Boys Section

Sunday

Monday

Tuesday

Wednesday

Thursday

U14s Basketball

U16s Basketball

U18s Basketball

U12s Basketball

U10s Basketball

Badminton

All Ages

Volleyball

All Ages

Athletics Club

All Ages

Dodgeball

All Ages

U12s Cricket

U10s Cricket

U16s Cricket

U14s Cricket

U14s Football

U16s Football

U18s Football

U10s Football

U12s Football

Girls Section

Sunday

Monday

Tuesday

Wednesday

Thursday

Badminton

All Ages

Basketball

All Ages

Football

All Ages

Dodgeball

All Ages

Rounders

All Ages
What are Extracurricular Activities?

Extra Curricular Activities are activities which take place after school such as football, basketball etc

Clubs usually start the second week into term to give students and parents the chance to sign up and organise their transport.

Why do we pay for some clubs?

Some activities have a coach who comes from another institution or private company and so a fee is applied. The little league activities also include a fee.

What are little leagues why are they different to clubs?

Little Leagues is an internal league that is only open to Wesgreen Students to participate in. They are a great chance for players to compete with and make new friends in a fun, safe environment.

Why do students have to wear their PE kit to take part?

This is for safety reasons and to ensure we abide by the school policy as in PE lessons.

What is the correct footwear for clubs?

Trainers are the best thing to wear for PE clubs. Football fixtures against other schools are played on grass and sometimes require football boots but otherwise these should not be worn in school.

Can students wear football boots to school?

No. This contradicts the schools health and safety policy.

What time should we collect the students from the after school club?

All after school clubs finish at 3:30. Little Leagues finish at 4:00pm.

Can parents watch training sessions and games?

Yes we welcome spectators at our training and games. Please make sure when on site as a parent you always wear your yellow lanyard.

Where do activities take place and where do I collect my child?

Students will always be collected from their section. It is best to wait in the appropriate section reception where students can be collected. It is better not to walk around the campus. At the end of the school day, the children who are registered for activities can go the Gymnasium to be registered for their activity and club.

How can I register for Extracurricular Activities?

Can my child try out activities mid year or mid semester?

Yes but you still have to sign up online. School team trials usually take place at the beginning of the term.

Do I pay for Extracurricular Activities?

Extra-Curricular activities are free of charge. Little League activities require a fee.

How do I pay for little league?

All school activities should be paid for online through the GEMS connect applications or in cash through accounts which is located in the admin block at boys section.