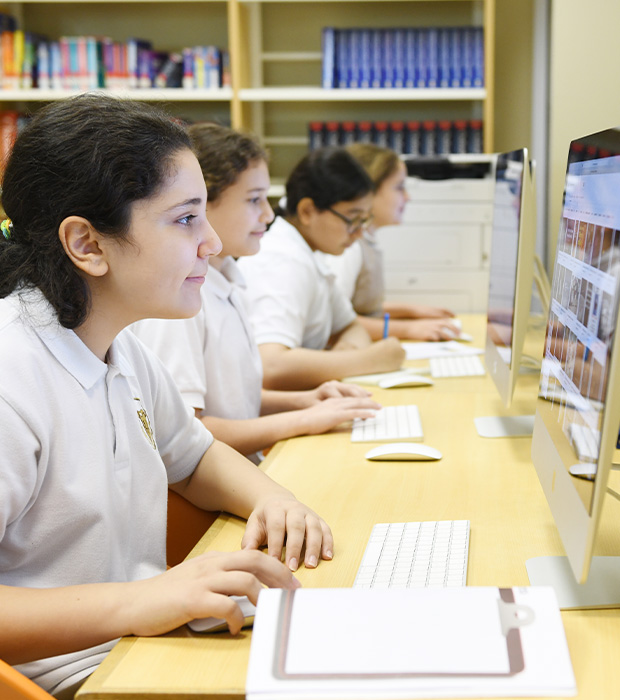 Admissions Overview
Admissions Process
GEMS Wesgreen International School (WGP) was founded in Sharjah in 1991 and offers an adapted Cambridge Curriculum. The school is a member of the British Schools in the Middle East (BSME).
GEMS Wesgreen International School offers primary to secondary education, leading up to the External Examinations offered by Cambridge University, for the IGCSE and AS Level of all students. Our academic standards are high and we expect our students to be the very best, and to achieve results that are on par with schools around the globe.
GEMS Wesgreen International School is an inclusive school. The GEMS vision for Inclusive Education is that we achieve excellence together by all students receiving the support they need to meaningfully belong to their school and wider community, feel valued for their contributions, engage purposefully in learning and experience academic, cultural, social and emotional success in a common learning environment.
At GEMS Wesgreen International School we welcome children with a range of learning preferences, including students of determination (students with special education needs and disabilities), students who are gifted and talented and students who are English Language Learners. Our staff are committed to educating all students in a common learning environment with similar-aged peers. At GEMS Wesgreen International School diversity is made visible as a strength, respectful relationships are continually enhanced and all children fully participate in learning through adjustments and teaching strategies tailored to meet the diverse range of learners reflected in wider society.
Sharjah Private Education Authority SPEA requires that you submit the following on registration.
2 Passport size photographs.
1 Copy of the child's Passport with valid visa.
1 Copy of the child's Birth Certificate.
1 Copy of the father's Passport with valid visa.
1 Copy of the mother's Passport with valid visa
1 Copy of Family Book (Khulasa) for UAE Nationals only.
1 copy Emirates ID. You will be asked to submit the Original Emirates ID for Ministry Registration.
Continuation certificate from the previous school.
Good Conduct certificate from the previous school.
Original attested report of the last examination – Required to Submitted by July 2022.
Original attested Transfer Certificate from the previous school – Required to submitted by July 2022.
For the students who come from outside U.A.E a transfer certificate and final report should be attested from the Ministry of Education, Foreign Affair and the U A E Embassy in your country.
Along with the documentation required for admission, applicants are requested to share full details of any special educational needs, individual education plans (IEPs) and any Educational Psychologist, Paediatric, or other specialist reports (e.g., Speech and Language or Occupational Therapy) if completed. Sharing educational history with GEMS Wesgreen International School prior to a place being offered is essential so that staff can ensure an appropriate assessment of educational need, educational plan and resourcing is in place. GEMS Wesgreen International School reserves the right to request a psychoeducational assessment in the event that a special educational need should arise during the admission process, as well as, during the students' academic career within the school. This is essential to ensure the best interest of the student is met. Admission is not conditional on the submission of a medical diagnosis and we have effective transition processes in place for all children.
Students are not refused admission based only on their experience of a special education need or disability (SEND) and we give sibling priority for admission to students who experience SEND. Staff follow the local regulatory guidance and procedures for scenarios where, very rarely, it may not be in the best interests of the child to be placed in WGP. This information will be shared with the local regulator, following expected procedures. However, In the event that information regarding additional needs of a student are withheld upon admission, the school reserves the right review the admission to ensure the best interest of the student are carried out.
Students should demonstrate the potential of a grade- appropriate level of English Language proficiency to be accepted at Wesgreen as English is the primary language of instruction.
As per the Ministerial Resolution No. 24 2021, regarding the cut off the date for calculating the age of acceptance for students who have completed the approved age by 31st of August for the academic year 20222-2023:
| | |
| --- | --- |
| Class | Minimum Age |
| FS1 | 3 |
| FS2 | 4 |
| Year 1 | 5 |
| Year 2 | 6 |
For admission in Year 13, students are required to submit a copy of their O-level results. The O-Level results are reviewed by the Examinations Officer, before a seat is guaranteed.
Considering the current situation of COVID-19 and for your children's health & safety, no entrance exams will be conducted during this time. Students' admissions will be decided based on the latest report from previous school.