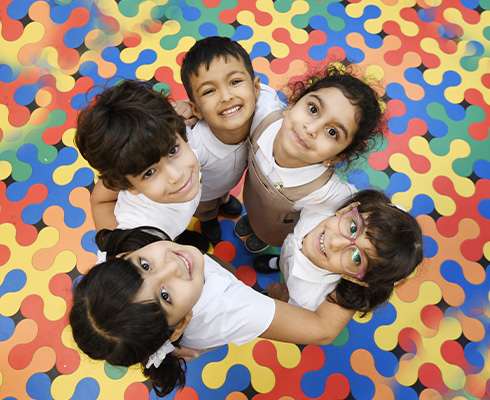 Launching FS1
"Inspiring Excellence – Empowering Global Minds"
Wesgreen International School is committed to creating opportunities for intellectual and personal growth in an inclusive environment. We value excellence, curiosity, respect, responsibility, humility and integrity. We enhance leadership skills through hard work, and the confidence to face uncertainty in a global society.
In setting up a provision for FS1, this gives us a wonderful opportunity to set standards for learning and development at Wesgreen. It is a time of rapid growth, when children are developing physically, emotionally, intellectually and socially. Having Sharjah students in Foundation Stage 1 will give them the same opportunity offered to young students in the rest of the UAE and internationally.
The curriculum will promote academic excellence benchmarked internationally; foster trans-disciplinary 21st-century competencies, and nurture national identity and values aligned to The UAE National Goals.
A focus on the whole child
The Wesgreen International School approach to learning focuses not only on academic excellence but also in helping students develop their character, creativity, values, personal leadership and the spirit of enterprise necessary for them to achieve their full potential as global citizens and leaders of the future. The school provides an outstanding academic foundation supplemented by a rich extra-curricular programme that focuses on developing the whole child (the cognitive/intellectual, the creative, the social-emotional, and the physical) so they are safe, supported, healthy, engaged and challenged.
At Wesgreen International School, every student is known and valued as an individual. We aim to help all students grow and develop to the full extent of their ability and to equip them with the skills required to take on leading roles within Sharjah and internationally. We demand high standards of discipline, honesty, courtesy and effort, and we encourage and expect each student to attain the highest level of achievement of which he is capable.
Basic Logistics
Students would need to be age 3 by the 1st September

Times: 7:45am – 12:30pm

Bus transport will be offered to parents
With this being in the middle of the year, you will need to please pay the Term 2 fees BEFORE starting on 3rd January.
Term

Period

Tuition

Fees

Resources &

Books

Total

Payable

2nd term

January to March

5700

660

6360

Now

3rd term

April To June

5700

0

5700

31/3/2021
The Finance offices are open every day from 7:00am to 4:00pm. Please contact [email protected] for details of all payment options available.
Buses
Bright Bus Transport (BBT) provides safe and convenient transport service to Wesgreen International School students.
For any queries you may have, please contact [email protected]
Buses will be available from the afternoon return journey on the 3rd January, as we would like parents to drop off students on the first day so they feel settled. We have arranged for special Foundation Stage 1 buses that will leave just after 12:30 pm each day.